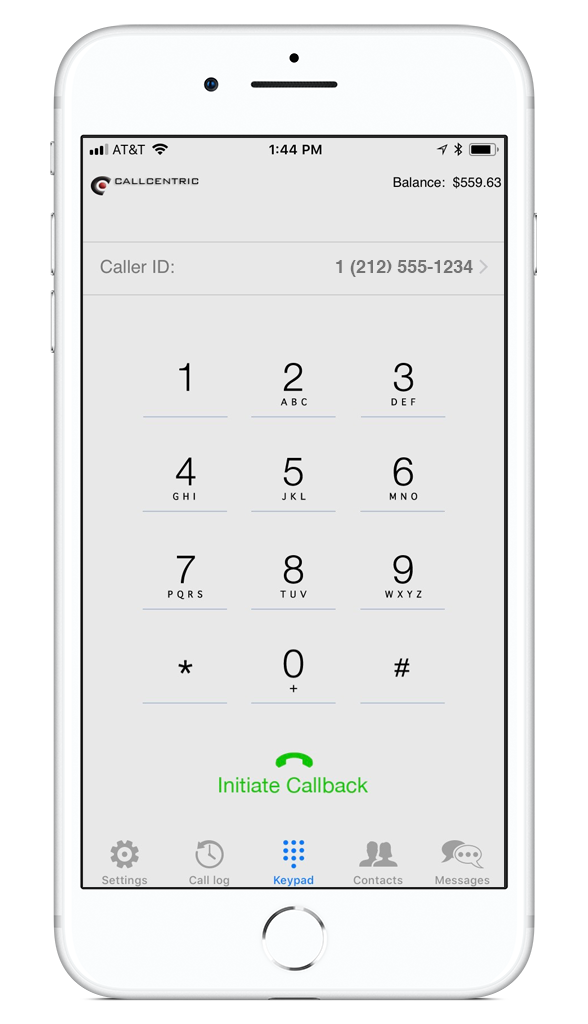 Fully revamped for 2018, our Callentric iPhone App now supports SMS and we've also expanded the functionality for our popular Click2Dial Feature.

Below is a comprehensive setup guide detailing everything you need to know to get started. If you'd first like to learn more about the general features/benefits of our app, please click here.



Getting started

To use the Callcentric iPhone App you need to have an active account with our service. If you do not already have an account, you can create one here.

To download our App, please go to the App Store.

Below are some links to help you get started:

Opening an account
SMS Access Plans
Inbound Calling Plans
SMS FAQ



Using SMS with the Callcentric iPhone App

Now that we've covered the basics, let's go ahead and configure the SMS Feature on your iPhone!


Step 1
Ordering your SMS Access Plan and SMS Numbers

To use SMS with our service you'll need to have:
SMS Access Plan
US/Canada Phone Number


Step 2
Configure your SMS Settings in the App

Configuring SMS in our App is easy and can be done entirely from the Settings screen.

Confirm the SMS Feature is active on your device by making sure the Enable On Device toggle is in the On position.



Enable SMS by tapping SMS Numbers. On this page you will see your SMS Ready numbers. Select either Enable on this device or Enable on account and on this device for each number you'd like to use with our app and then tap Save.



Note: If you don't see any numbers listed on the SMS Phone Numbers screen, this means you don't have any active numbers on your account that can be enabled to use with SMS. You can order a US/Canada Number here.


Step 3
Wait for the service to activate

Wait for about an hour for the SMS to kick in for your phone number before trying to send or receive a message.



THAT'S IT! YOU'RE READY TO GO!!!



For further information regarding our SMS Services, please refer to the following FAQs:

iPhone App Overview
Basic Functionality
Billing & Reporting



Configuring and using Click2Dial

With our Click2Dial call bridging feature you can use your Callcentric Account to place calls from any phone. Configuring Click2Dial is easy, just follow the 3 steps below!


Step 1
Set your Callback Number

The Callback Number is the number that we will bridge your calls from. The way Click2Dial works is our system calls you on the Callback Number you define and when you answer you are automatically connected to the number you dialed on the Keypad in the app.

From the Settings screen, select Callback Number. On the Callback Numbers page enter the number(s) you want to bridge your calls from (iPhone, hotel room, office phone, etc).




Step 2
Select your CallerID

This is the number that will be sent on outbound calls placed through the app. You can use any of your existing Callcentric DIDs or verified third-party numbers for Outbound Caller ID.

From the Settings screen, select Caller ID. On the Caller ID screen select the number you want to use and tap Save.




Step 3
Place your call from the Keypad Screen

Go to the Keypad Screen, dial the number you want to reach, and tap Initiate Callback to place your call!